We are an international group focused on the virtue of SERVICE
Our full title is the International Order of the Rainbow for Girls (IORG). We work to serve other individuals, our local community, our state, our country, and even our planet.

Rainbow is a non-profit group for girls between 11 and 20 who believe in a supreme being. It is open to all girls regardles of religous belief. The teachings are based on seven lessons(one for each color of the rainbow). These are LOVE, RELIGION, NATURE, IMMORTALITY, FIDELITY, PATRIOTISM, and SERVICE.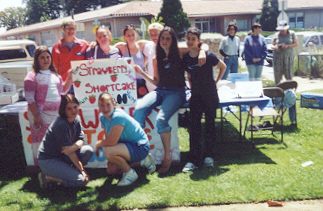 How We Perform Service
We serve the community in two major ways. We often serve the community personally by volunteering or we have fundraisers to benefit other orginizations that perform spcific services. These have included Canine Companions for Independence, Blind Babies Foundation, Cystic Fibrosis, Jacob's Heart, Speech and Language Developement Center, Freedom In Motion, and Camp Sunshine Dreams.

Our State Service Project


Every year we get a new service project for which to raise money. Every assembly in the state comes together for this purpose. This year we are working to help DOGS 4 DIABETICS.

Dogs for Diabetics is an innovative non-profit organization that provides quality medical alert assistance dogs to youth and adults who are insulin-dependent type 1 diabetics through a program of training, placement, and follow-up services.

Dogs4Diabetics dogs have been specifically trained to identify, and more importantly, act upon the subtle scent changes that hypoglycemia (low blood glucose) creates in body chemistry, changes undetectable to their human companions.

Our non-profit organization was established and operates to do the following:

• Training and certifying dogs for hypoglycemia (low blood glucose) medical alert.

• Studying and developing training protocols for the Dogs4Diabetics program.

• Training diabetic youth and adults for the proper use and care of our dogs.

• Qualifying diabetic youth and adults for placement and service of our dogs.

• Placement follow-up services.

• Educating the businesses, organizations, and the public to the uses and rights of certified Dogs for Diabetics medical alert dogs.

Dogs4Diabetics dogs are currently only being placed with Type I (insulin-dependent). For further information, email us at santacruziorg@yahoo.com